TLP Pro 1225, TLP Pro 1525, TLP Pro 1725 Series
Three New TouchLink Pro Series Elevate Your Systems with Powerful AV Control
The TLP Pro 1225, TLP Pro 1525, and TLP Pro 1725 Series are designed to easily handle today's AV control needs, while their quad core processing and abundant memory make them ready for whatever AV demands lie ahead. These 12", 15", and 17" touchpanels come in both tabletop and wall mount form factors and have capacitive edge-to-edge glass touchscreens with 24-bit color for a vibrant look and an ultra-responsive control surface. They feature video preview inputs that support high resolution video from HDCP-compliant HDMI sources and Extron XTP devices. As an exciting upcoming feature, they will all soon support annotation when used in conjunction with an Extron Annotator 300. All of these new touchpanels have features that make them ideal for control applications requiring fully-customizable touchpanels with flexible mounting options, large control surfaces, and multi-source video previews with annotation support.
Video Preview
Video preview enables users to use these TouchLink Pro touchpanels as a confidence monitor or a preview monitor within a presentation environment. Content can be displayed either windowed or full screen and is delivered via HDCP-compliant HDMI or from any XTP mainframe or end device.

Annotation – Coming Soon
The annotation function on these TouchLink Pro touchpanels allows presenters to annotate directly onto video content from a PC, media player, document camera, or any other video source. The ample screen real estate in these larger TouchLink Pro touchpanels has plenty of room for advanced annotation features as well as all the AV, room, and environmental controls you need.
To enable annotation features, an Extron Annotator 300 must be used in conjunction with these touchpanels.

Compatible with a wide range of Extron products
These work with any Extron IP Link® Pro control processor and HC 400 Series systems. It is designed for use in AV system applications that require complete, interactive control of a broad range of source devices. TouchLink Pro touchpanels operate using standard network infrastructure and are easy to install with reliable and cost effective Ethernet cable.

Energy-saving
All Extron TouchLink Pro touchpanels are designed with energy saving features. In addition to their inherent energy-efficient designs, the TLP Pro 1225, TLP Pro 1525, and TLP Pro 1725 Series have an adjustable sleep timer that puts the touchpanels into sleep mode after a designated time. A motion detector wakes the touchpanels when lights or motion is detected.

Fully customizable
All TouchLink Pro touchpanels can be customized using Extron GUI Designer software. This powerful interface design software offers ready-to-use templates for a wide variety of rooms and presentation environments. These designs may be used as is or customized for the application by simply changing individual graphic elements. In addition, all of our touchpanels offer maximum flexibility by allowing individuals to either configure them using Global Configurator Plus and Professional or program them using Global Scripter.
TLP Pro 1725TG Front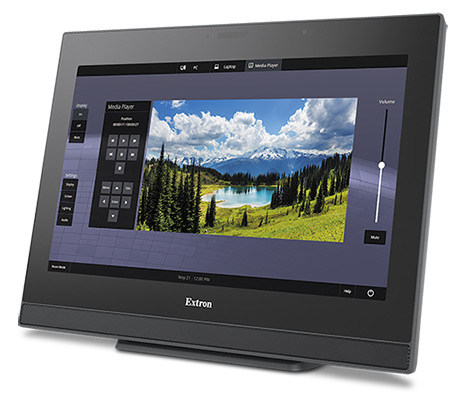 Configurable red and green status light indicates a room's availability or call status

Light sensor adjusts screen brightness as the ambient room lighting changes

17" capacitive, edge-to-edge glass display with 1920x1080 resolution

Built-in speakers provide stereo audio

Power saving motion sensor for sleep and run modes

Fully customizable touchpanel user interface

Camera for future use
TLP Pro 1725TG Rear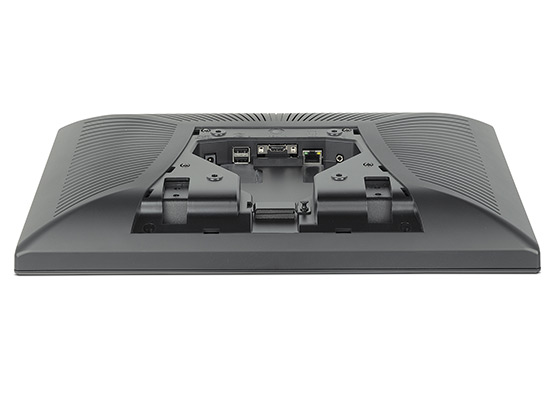 XTP and scaled HDCP-compliant HDMI video inputs

Power and communication over a single cable limits the number of cables needed to be run to the touchpanel – High-power injector included for 1725 Series only

3.5mm headphone jack for personalized audio playback

Two USB ports for future use

12 VDC power port for powering the panel using a highly reliable, energy-efficient external universal power supply – Tabletop models only
TLP Pro 1725TG Side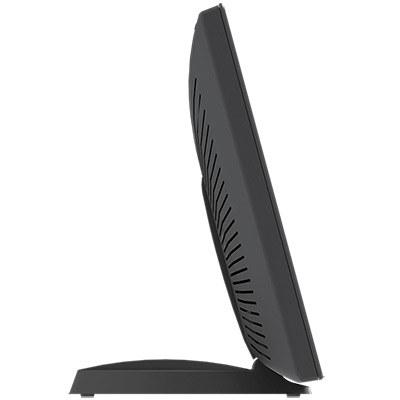 Kensington lock used to detour theft of panel

When base is removed VESA mounting supported for podium and on wall applications

Base supports up to 40 degrees of tilt allowing users to set the optimum angle