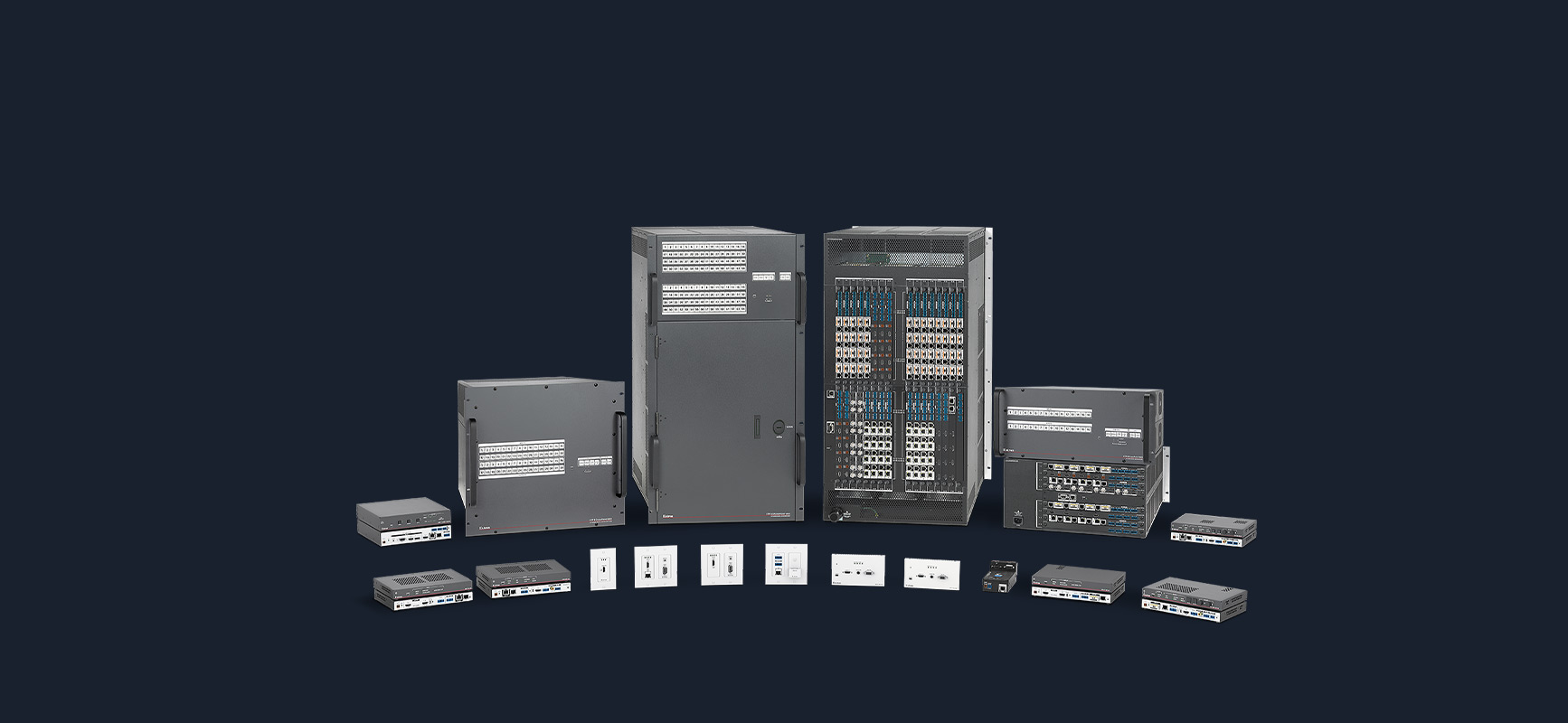 The Only AV Platform for HDMI 2.1
XTP II 8K Input and Output Boards
Industry first, 8K switching and distribution with HDCP 2.3 Support
Supports HDMI 2.1 data rates up to 40.1 Gbps, including resolutions up to 8K/30 with 4:4:4 color sampling
Accepts dynamic HDR, deep color up to 12-bit, 3D, and HD lossless audio formats
Provides 12 VDC, 125 mA power connections for active HDMI cables – XTP II CP 4i HD 8K
Dante® audio output enables transport over a local area network using standard Internet protocols
The Only AV Platform for HDMI 2.1
Previous
Next
XTP Systems
A complete AV distribution platform with unmatched performance and powerful integration features that streamline the system from design through operation. XTP Systems® easily scale from small to large applications without additional complexity. They are comprehensive switching and distribution systems for digital video resolutions up to 8K plus audio, supporting local AV connectivity as well as remote devices over shielded CATx and fiber optic cable. The line's modular approach and wide selection of I/O boards, extenders, and other products ensure the flexibility and expandability any project may require. XTP® is the definitive AV industry standard you can depend on now and to meet the challenges of ever increasing resolutions and new technologies.
XTP WindoWall Delivers Powerful Capabilities for Videowall Applications
XTP WindoWall® mode utilizes XTP scaling receivers with Extron Vector 4K scaling technology to enable videowall support within XTP Systems. This further expands capabilities and enables broader use in applications, such as command and control and emergency operations centers. Images can be shown full screen, spread across multiple displays or a combination of both. Up to eight videowalls can be supported within an XTP system, and up to eight assignable presets are available per wall for quick and easy viewing between different image arrangements. Convenient software features such as drag and size layout configuration, mullion compensation, and the ability to create multiple presets expedite the setup process without need for expensive custom programming.
Reliability and Performance by Design
Designed and engineered to the highest standards, the 50 Gbps backplane delivers bandwidth performance that exceeds HDMI 2.1 and DisplayPort 1.4 signal requirements for all 4K/60 rates and gives support for today's highest resolutions, such as 8K/30 with HDR.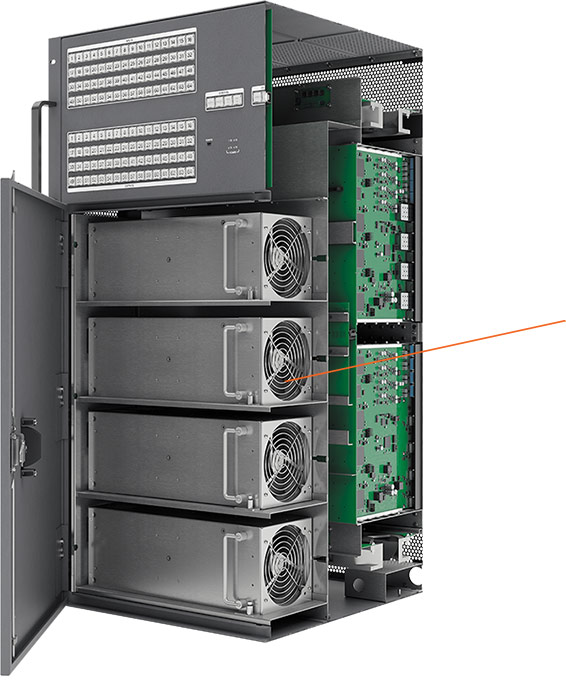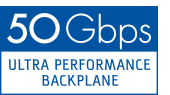 Four, hot-swappable, Extron-designed power supplies: 2 primary and 2 redundant

50 Gbps
Digital switching backplane performance exceeds the data rate requirements of today's most demanding signals

4K
Twisted pair, fiber optic and HDMI boards provide end-to-end 4K video switching and transmission

64 I/Os
Modular, hot-swappable design supports I/O sizes up to 64×64 and upgrades to next generation video boards

4 Power Supplies
Robust, hot-swappable, state-of-the-art power supplies are engineered to last

100,000 Hour MTBF
Highest quality metal fans are individually monitored to ensure optimal cooling
XTP II CrossPoint road-map to performance, efficiency, and longevity
Thermal Management
Dual, monitored fan banks with top and bottom chassis ventilation deliver optimal thermal management by drawing cool air from the bottom, pushing forced air through the I/O board chamber, and expelling warm air out the top of the enclosure.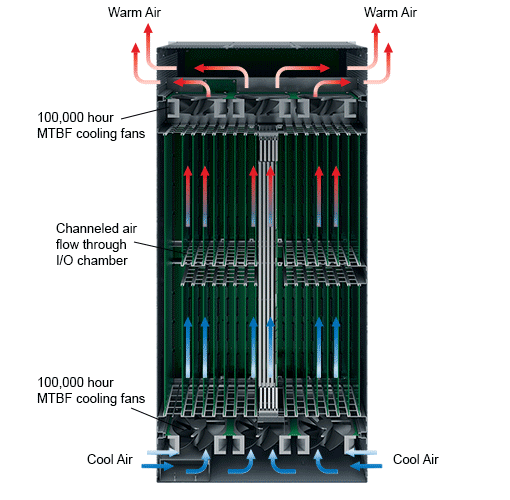 The Extron Everlast Difference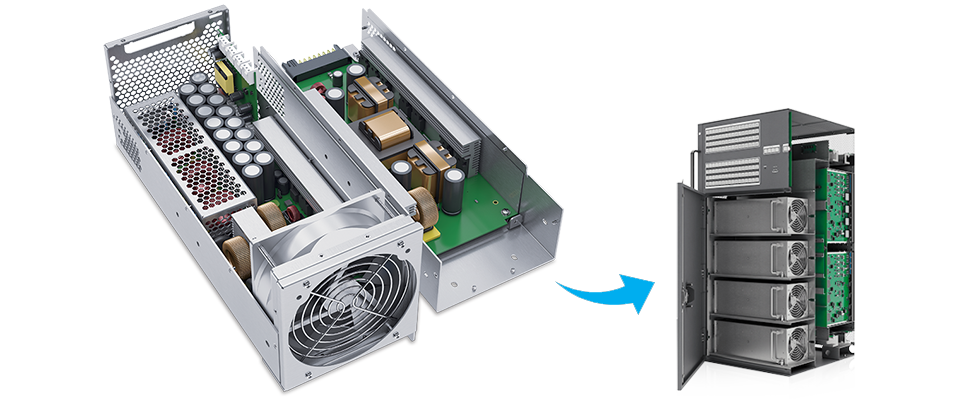 XTP II CrossPoint 6400, featuring four hot swappable Everlast Power Supplies 2 primary and 2 redundant
XTP II CrossPoint 6400, featuring four hot swappable Everlast Power Supplies 2 primary and 2 redundant
We design and manufacture our Everlast Power Supplies in-house, employing premium-quality components and highly efficient, modern topologies for thermal management, transistor switching, energy dissipation, and virtually every other critical aspect of the power system. Each Everlast Power Supply is built with the same care and meticulous attention to detail as our award-winning high-end video products.
Demonstrated Reliability. Proven Performance.
Typical AV power supplies have an average MTBF, Mean Time Between Failure, rating of around 30,000 hours, calculated by using the stated specifications of the individual components.
To ensure that our Everlast power supplies meet Extron standards of performance and quality, we subjected each model of our PS Desktop Series to actual, not calculated, accelerated operation life testing, using a heat chamber at an ambient temperature of 85°C. The power supplies were operated under load for over 2 years. Under these grueling conditions, each hour in the heat chamber is like 64 hours in the real world.
Based on this actual accelerated operational life testing, we achieved MTBF benchmarks of 280,000 hours up to an incredible 1,000,000 hours, or the equivalent of over 114 years, depending on the model. We know of no other company that has gone to such lengths to guarantee power supply reliability. Simply put, our Everlast Power Supplies deliver unprecedented, demonstrated reliability and longevity in the most demanding professional AV environments.