Full configuration capability with all system components
With a few clicks of the mouse, your XTP System evolves from an empty frame to a complete design that includes extenders, accessories, and cabling. XTP System Builder generates an as-configured custom part number for the XTP matrix switcher and compiles all selected components into a single equipment list.
Power Tracker
Know at a glance how many XTP twisted pair devices can be and are being powered by your selected XTP matrix switcher frame in its current configuration. Power Tracker also lets you know if it's necessary to reassign an endpoint device to receive local power, or if adding an input or output board or installing a power injector can provide the desired remote power capabilities over the shielded CATx cable.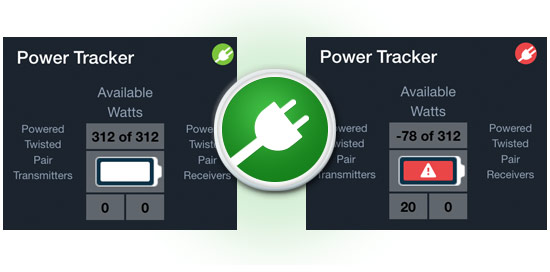 Convenient 24/7 access
The intuitive XTP System Builder is available around the clock for system design, quote submittal, and pricing.
Printable Bill of Materials
The complete BOM can be printed for your project files or for reference on future projects. It is also suitable for sharing with your client.
Requirements
Internet Explorer is no longer supported.
Please use an updated web browser like Microsoft Edge, Google Chrome, or Mozilla Firefox to experience the full capabilities of our website.