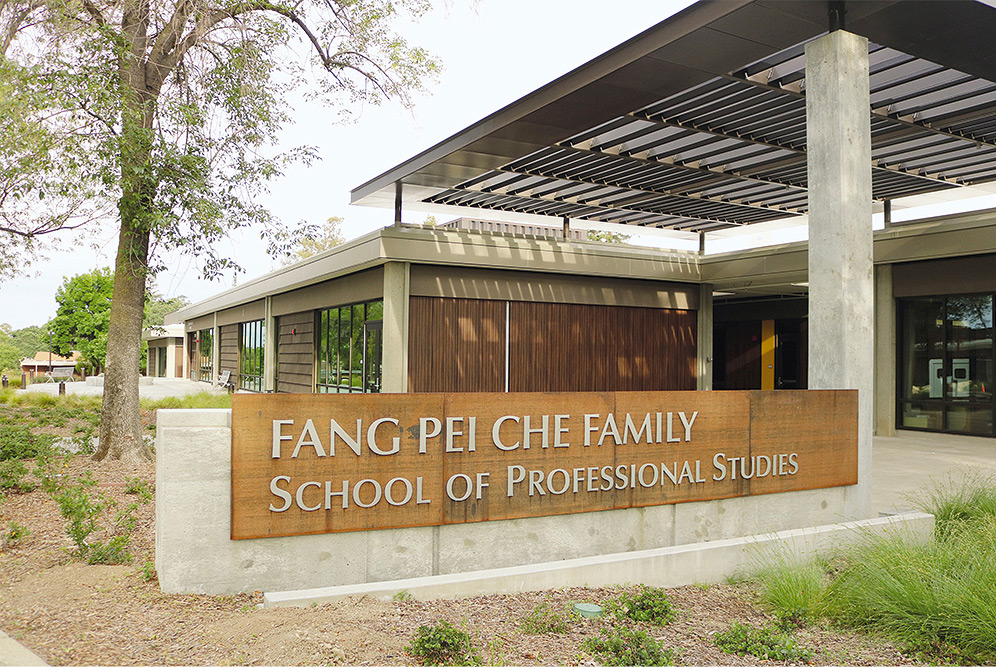 Extron AV Systems Enhance Renovated West Valley College Che School of Professional Studies
As spelled out by the Board's resolution, staff must demonstrate that the designated products 'facilitate the most reliable, dependable, cost efficient, and feasible education for students in the District.' West Valley College's technology support staff definitely agrees with that evaluation of Extron.
Challenges
West Valley College, WVC, is a public community college occupying a 143-acre campus in California's Silicon Valley city of Saratoga. With a student population of just over 8,000, WVC provides preparation for transfer to four-year institutions, AA/AS degree programs, and professional certificates for today's job market.
WVC opened the Fang Pei Che Family School of Professional Studies with an October 3, 2018 ribbon cutting. The facility is named to honor the Che family for a $200,000 donation it made toward the $13.6 million renovation of existing Business Division and Administrative Justice Division buildings. The renovation created a new home for the Accounting, Administration of Justice, Business, Child Studies, Court Reporting, Computer Information Systems, Engineering, Paralegal, Park Management, Real Estate, and Unmanned Aircraft Technology departments, as well as a new Entrepreneur Center.
In addition to major interior and exterior structural and mechanical upgrades, the renovation installed state of the art digital AV multimedia systems in classrooms, lecture halls, conference rooms, and the Entrepreneur Center.
Solution
Sixteen classrooms and a lecture hall are outfitted with projectors, PTZ cameras, wired and wireless microphones, and a range of Extron AV signal distribution, control, and audio equipment installed in the podiums. The podiums have desktop PCs, laptops, and document cameras. DTP CrossPoint 84 4K Scaling Presentation Matrix Switchers, DTP T DSW 4K 233 switchers, and SW4 USB Plus switchers handle AV content and USB routing, video scaling, audio processing, amplification, and control. A 12" Extron TLP Pro touchpanel provides intuitive control over system operations. Other Extron equipment housed in the podiums are: ShareLink ® 200 N for WiFi connectivity; SMP 351 Streaming Media Processor for recording and streaming AV content; and MediaPort 200 USB Scaling Bridge for conferencing. Three synchronous classrooms, where distance learners interact with those in the room, also have an interactive flat panel display, ceiling array mics, an Extron DMP 128 Plus C AT ProDSP™ Processor with Dante ® audio, and a DTP CrossPoint 86 4K IPCP MA 70 switcher. All classrooms include Extron FF 220T Flat Field ® speakers that cover the entire room with a minimum number of speakers.
DTP HDMI 4K 230 Rx receivers, DTP T 3G SDI 230 D transmitters and USB Extender Plus transmitters and receivers distribute AV and USB signals throughout the facility on shielded twisted pair cables.
Results
Users are reaping the benefits of the vastly improved AV systems at the Che School of Professional Studies. Instructors like the fast switching between sources and the user-friendly touchpanels. Students are more engaged, learn more easily, and retain more when lessons are presented in rich and immersive multimedia format viewable in the classroom or on smartphones.