Pro 4K USB-C Dock

with Video,

10G Data, and Power
UCS 601
Pro 4K USB-C 10G Dock
The UCS 601 is a powerful Pro 4K USB‑C dock designed to meet the unique needs of unified communications meeting spaces. It supports connection of a USB‑C laptop, while three USB device ports connect to peripherals such as USB cameras and microphones at data rates up to 10 Gbps. The USB‑C input supports video/audio, USB data, and also provides 60 W of power to charge a user's laptop computer.
With the UCS 601, your meeting space can integrate your room's USB cameras and microphones with users' portable laptops into UC meetings. The UCS 601 makes it easy to integrate AV sources and USB cameras for Teams, Zoom, or other UC meetings, into huddle and collaboration spaces.
Intuitive Collaboration
The user-friendly UCS 601 is easy to use in BYOM spaces, including simple rooms without a control system. As the laptops are connected, the USB‑C dock will automatically connect each laptop to the room's display as well as connect to USB cameras or other room devices for use in Teams or Zoom meetings. When a laptop is disconnected, the display will automatically go into standby mode, empowering users to collaborate intuitively, with minimal interaction with the AV hardware.
Comprehensive USB‑C
The UCS 601 utilizes the full capabilities of USB-C connections, enabling transmission of all three primary AV functions, video/audio, USB data, and power, over a single cable. This all-in-one connection eliminates the need for laptops to have a separate power or USB data connection and streamlines the user experience with a single cable.
BYOM Convenience
Bring Your Own Meeting (BYOM) spaces offer collaborative spaces for local and remote users without the need for more complicated room setups that use dedicated computers, switching and control equipment. BYOM spaces can use USB cameras and microphones in conjunction with portable laptops brought by the users. A USB‑C dock allows users to operate USB-connected equipment in the room. These spaces are more convenient for users, less expensive to set up and maintain, and offer more flexibility. They also serve a dual function by operating as traditional presentation spaces when users want to present content locally and don't need to run a UC meeting. BYOM spaces feature powerful and effective local and remote collaboration capabilities for today's huddle, meeting, and collaboration rooms.
Features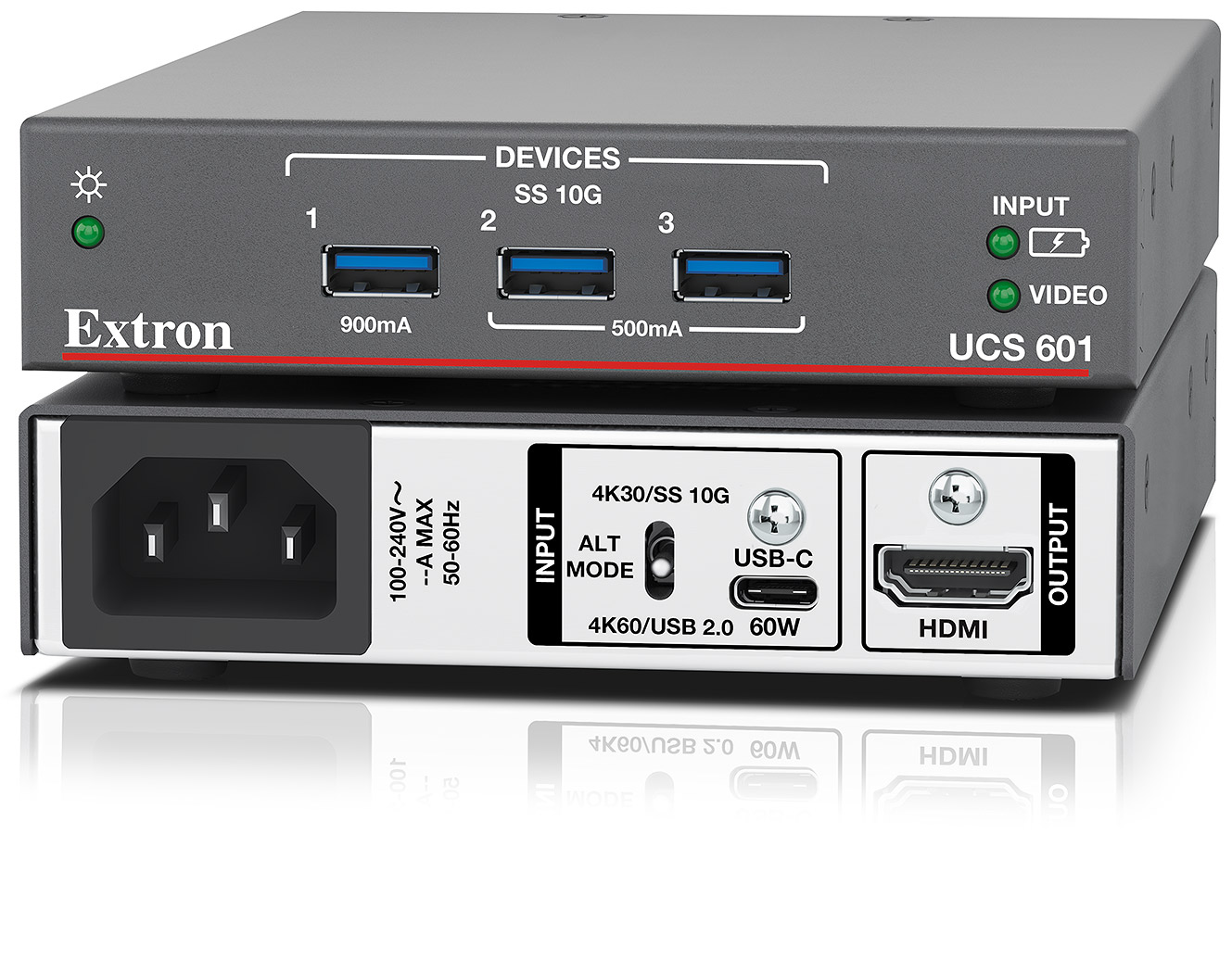 Three USB Peripheral device connections, supporting rates up to USB 10 Gbps

Front panel unit power, USB power, and video status LEDs provide visual indication of activity for attached computer

Compact low profile 1" (2.5 cm) high enclosure can be rack mounted or discreetly installed behind a flat panel display

HDMI Output supports computer and video resolutions up to 4K/60

USB-C Input provides 4K video/audio input, USB 10 Gbps data, and up to 60 watts of power to the USB‑C laptop in a single connection

DisplayPort Alt Mode switch sets HDMI output resolution to 4K/30 and rates up to USB 10 Gbps or 4K/60 with rates up to USB High Speed (USB 2)

Internal Extron Everlast power supply covered by 7‑year warranty and eliminates need for external power supply mounting
Application Diagram
A USB-C laptop connects at the Cable Cubby 100 enclosure in the room to the UCS 601 which outputs the laptop video to the room display. A USB camera with microphone connects to a USB device connection on the UCS 601 connecting it to the laptop. The laptop runs the Teams, Zoom or other UC meeting shown on the room display while using the room camera and microphone for the remote users in the meeting.