SMP 111
Single Channel H.264 Streaming Media Processor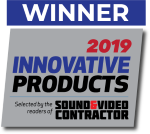 The SMP 111 is a high performance recording and streaming processor for capturing and distributing AV sources and presentations as live streaming and recorded media. The SMP 111 accepts an HDMI signal with embedded audio and an analog audio signal. Extron high performance scaling and flexible signal processing enable superior display of content of varying resolutions from computers and HDTV sources. The SMP 111 supports extensive streaming capabilities, it can record and stream simultaneously, with independent resolutions and bit rates using a range of transport protocols and session management options. Recording with the SMP 111 provides easy capture of live HDMI signals to an internal flash drive and external USB drives. Requiring no licensing fees, the SMP 111 is a compact, flexible, and cost-effective solution for streaming and recording content.
Optional RCP 101 Series remote control panels can extend both front panel control as well as USB connectivity for thumb drive recording media. Available in decorator-style, MK, and EU versions; the EU version is compatible with Flex55 enclosures. The included USB and power cables from the SMP 111 provide up to 15 feet (4.5 meters) of extension to the transport controls and USB port. Alternately, a USB extension such as Extron's USB Extender Plus series can provide up to 330 feet (100 meters) between the remote control panel and the SMP 111.
The SMP 111 is ideal for applications that require simple recording of a single video signal with audio and metadata. It provides MP4 or M4V file format recordings integrated with metadata, chapter and event marking. It is also ideal for applications that require live streaming to remote participants. The SMP 111 can be adapted to many applications, documenting virtually any meeting, conference, or activity that uses an AV source as a reference. The SMP 111 is ideal for use in corporate, education, government, and rental and staging applications. Applications include:
Presentation Recording: Document presentations and replay them for absent participants

Lecture Capture: Record and publish educational courses onto learning management systems

Enterprise Training Systems: Archive training material and publish for on-demand access

Visual Data Recording: Document technical systems that use AV data

Event Rehearsal: Practice and evaluate rehearsals and presentations
Add Horizontal Video Mirroring Capabilities with LinkLicense
A Horizontal Video Mirroring LinkLicense upgrade adds powerful features to the SMP 111 Streaming Media Processor. The expanded functionality enhances and streamlines the recording of video and audio presentations. Horizontal Video Mirroring flips video horizontally to support lightboard or other applications that require reversal of the video image due to the presenter facing the camera while writing on a transparent surface. This eliminates time and resources spent manually flipping the video in post-production.
Key Features
Process live, high resolution HDMI video and audio with metadata
Record and stream simultaneously
High quality scaling with aspect ratio control, size, and position
Produces MP4 media files that are compatible with virtually any media player
Automatic file uploading
RTMP streaming protocol supports popular third party hosting services