Easily Record and Share Your Content with Our Industry-Leading Lecture Capture Solutions
Extron SMP Streaming Media Processors are purpose-built appliances that create powerful learning environments for remote communications, learning, and training. They work seamlessly with enterprise video platforms such as Kaltura, Panopto, and YuJa to deliver live or on-demand content to students and employees anytime, anywhere, and on any device.
Use SMP Streaming Media Processors to streamline Lecture Capture and alleviate the complexity, reliability, security, and network management burdens associated with traditional PC or software-based recording tools. Future-proof and flexible, Extron SMP solutions work with any video platform, today and into the future.
Our SMP Streaming Media Processors are robust, worry-free recording and streaming appliances that fit easily into any workflow for both ad-hoc and scheduled activities. Use them to easily live stream to YouTube, Facebook and other content delivery networks while simultaneously publishing to enterprise video platforms for full lecture capture integration.
SMP 111
Single Channel H.264 Streaming Media Processor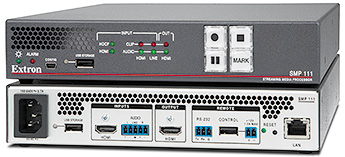 The SMP 111 is a high performance recording and streaming processor for capturing and distributing AV sources and presentations as live streaming and recorded media. The SMP 111 accepts an HDMI signal with embedded audio and an analog audio signal. Extron high performance scaling and flexible signal processing enable superior display of content of varying resolutions from computers and HDTV sources. The SMP 111 supports extensive streaming capabilities, it can record and stream simultaneously, with independent resolutions and bit rates using a range of transport protocols and session management options. Recording with the SMP 111 provides easy capture of live HDMI signals to an internal flash drive and external USB drives. Requiring no licensing fees, the SMP 111 is a compact, flexible, and cost-effective solution for streaming and recording content.
Optional RCP 101 Series remote control panels can extend both front panel control as well as USB connectivity for thumb drive recording media. Available in decorator-style, MK, and EU versions; the EU version is compatible with Flex55 enclosures. The included USB and power cables from the SMP 111 provide up to 15 feet (4.5 meters) of extension to the transport controls and USB port. Alternately, a USB extension such as Extron's USB Extender Plus series can provide up to 330 feet (100 meters) between the remote control panel and the SMP 111.
The SMP 111 is ideal for applications that require simple recording of a single video signal with audio and metadata. It provides MP4 or M4V file format recordings integrated with metadata, chapter and event marking. It is also ideal for applications that require live streaming to remote participants. The SMP 111 can be adapted to many applications, documenting virtually any meeting, conference, or activity that uses an AV source as a reference. The SMP 111 is ideal for use in corporate, education, government, and rental and staging applications. Applications include:
Presentation Recording: Document presentations and replay them for absent participants

Lecture Capture: Record and publish educational courses onto learning management systems

Enterprise Training Systems: Archive training material and publish for on-demand access

Visual Data Recording: Document technical systems that use AV data

Event Rehearsal: Practice and evaluate rehearsals and presentations
Add Enhanced Features to Kaltura or Panopto with LinkLicense
These annual SMP 111 Enhanced Feature LinkLicenses enable enhanced integration with the Kaltura and Panopto hosted video platforms. Use automated scheduling and publishing, as well as live stream to Kaltura or Panopto platforms using RTMP/RTMPS.
Add Horizontal Video Mirroring Capabilities with LinkLicense
A Horizontal Video Mirroring LinkLicense upgrade adds powerful features to the SMP 111 Streaming Media Processor. The expanded functionality enhances and streamlines the recording of video and audio presentations. Horizontal Video Mirroring flips video horizontally to support lightboard or other applications that require reversal of the video image due to the presenter facing the camera while writing on a transparent surface. This eliminates time and resources spent manually flipping the video in post-production.
Key Features
Process live, high resolution HDMI video and audio with metadata
Record and stream simultaneously
High quality scaling with aspect ratio control, size, and position
Produces MP4 media files that are compatible with virtually any media player
Automatic file uploading
RTMP streaming protocol supports popular third party hosting services

More

LED provides visual indication of alarm status

More

Start, stop, pause, and mark controls allow for simple front panel operation

More

Front panel USB port for easy "capture and carry" recording sessions

More

LED notification of active video and HDCP encrypted content aids troubleshooting

More

Audio indicators for confirmation of signal presence and level

More

32 GB internal flash storage

More

Rear USB port for rack-mounted storage devices

More

HDMI video and embedded digital audio input

More

Selectable stereo analog audio input

More

HDMI video and embedded audio output of streamed content

More

RS-232 serial port for control system integration

More

USB and power connection for optional RCP 101 Series remote control panel

More

Gigabit Ethernet for streaming, file transfer, control, and web interface
SMP 300 Series
H.264 Streaming Media Processors

The SMP 300 Series of products are high performance streaming and recording processors for capturing and distributing AV sources and presentations as live streaming and recorded media. Easily stream to Wowza, YouTube, Twitch, Vimeo and more with the RTMP streaming protocol. Apply RTMP push streaming with stream name or key and user authentication in unicast or multicast streaming applications to extend live presentations or events to reach much larger audiences. Streaming to Facebook Live is also supported using the RTMPS streaming protocol, and the SMP automatically adjusts for this protocol to deliver a consistent user experience. Virtual Input support for network-based streaming sources enables the ability to ingest up to two additional RTP/RTSP push/pull streams and record each stream into a separate file. Users can directly record up to 4 inputs, including IP cameras and other encoded sources for recording and streaming.
SMP 300 Series processors also support SDI audio de-embedding to decode audio from SDI sources for inclusion in audio mixes along with HDMI or analog sources. They incorporate Extron's FlexOS®, a flexible platform for automating system operation. Accepting HDMI, component, composite, and optional 3G-SDI signals, SMP 300 Series processors can record and stream simultaneously and can stream at two different resolutions and bit rates concurrently using a range of transport protocols and session management options.
Comprehensive control and configuration features make SMP 300 Series processors integration-friendly and easy to control and operate. Various LinkLicense® upgrades are available that enhance system operation, expand system options, and provide immediate cost-effective solutions that deliver presentations to larger audiences.
LinkLicense for Dual Recording (SMP 351 only)
LinkLicense for Enhanced Panopto Features
LinkLicense for Enhanced Kaltura Features
LinkLicense for Enhanced YuJa Features
LinkLicense for Horizontal Video Mirroring
SMP 300 Series processors are ideal for use in virtually any professional environment where AV sources can be streamed live or recorded for future reference, especially when combining multiple AV sources will enhance the message. Streaming and recording AV presentations allows an organization to communicate and train employees and students that cannot be present at an event. Event recording provides everyone with the opportunity to review and gain insight into the live experience. SMP 300 Series processors can be adapted to many applications, documenting virtually any meeting, conference, or activity that uses an AV source as a reference. They are ideal for use in corporate, education, government, healthcare, courtroom, house of worship, and rental and staging applications. Applications include:
Presentation Streaming: Stream presentations to remote viewers
Corporate Training Systems: Record training events and publish them for on-demand access
Lecture Capture: Record course lectures and upload them to Learning Management Systems
Meeting and Conference Recording: Record meetings and videoconferences to document important decisions and agreements
Visual Data Recording: Document technical systems that use AV sources as reference data
Rehearsal Systems: Practice and evaluate rehearsals and presentations
Key Features
NEW - Support virtual inputs, enabling the ability to ingest up to two additional RTP/RTSP push/pull streams and record each stream into a separate file
NEW - Ability to use the RTP Output Stream as another Virtual Input source
Process two high resolution AV sources from up to five available input signals
Record and stream simultaneously
High quality scaling with flexible two-window management (SMP 351 or SMP 352 in Single Channel mode)
Produce MP4 media files that are compatible with virtually any media player
Stream concurrently at two resolutions and bit rates from the same source
Dual recording and streaming (SMP 352 or SMP 351 with the Dual Recording LinkLicense)
Audio mixing and advanced DSP functionality
RTMP and RTMPS streaming protocols support popular third-party hosting services
Flexible I/O ports for advanced AV system management

More

80 or 400 GB solid state drive provides reliable storage for hours of AV material

More

Recording controls provide a direct interface for managing a recording

More

Audio level indicator provides a visual indication that audio signals are present

More

Layout preset button provides access to select from sixteen different blended source arrangements

More

LCD Control Interface, direct access buttons and precise rotary controls simplify setup and configuration from front of unit

More

Integrated scaler provides high quality, flexible video source management for channel A and channel B input signals

More

USB port provides a mount point for external storage devices

More

Configuration port provides easy access for system configuration from a PC

More

Input buttons select the channel A and channel B signal connections that will be recorded and streamed

More

Pause button suspends and resumes recording eliminating storage of unnecessary data

More

MARK button allows notable events to be identified to aid in navigation of recordings

More

SWAP button provides a quick method switch the video positions for the channel A and channel B inputs

More

Digital I/O LED indicators identify the status of sensors and system control interfaces

More

Digital I/O connection can be used to interface with external sensors and devices used in in AV systems

More

HDCP-Compliant signal management presents encrypted signals on HDCP-compliant displays. A green screen and HDCP message is presented on non-compliant destinations

More

HDMI-embedded stereo audio or analog stereo audio inputs provide flexibility to use both signal formats, eliminating use of additional audio equipment

More

Analog audio inputs provide a shared input connection for channel A and B inputs

More

HDMI, component, and composite inputs provide compatibility with commonly used camera signals or a second AV source

More

The SMP 300 Series 3G-SDI models accept serial digital video signals supplied by cameras an other professional video sources

More

Audio DSP delivers a quality output for various source combinations and during source switches

More

Rear USB storage port provides efficient access for connecting to external storage from within an AV equipment rack

More

USB Keyboard and Mouse connections provide alternate access for setup and configuration from the HDMI output

More

RS-232 serial port provides an interface for control systems and serial devices

More

Switchable HDMI inputs with embedded-stereo audio provide clean switching between commonly used digital presentation sources

More

Audio loop through connection simplifies AV system wiring

More

HDMI output provides a local preview of the sources

More

Analog audio output contains the processed, mixed stereo signal that is recorded or streamed

More

Ethernet port is used for live streaming, transport of recordings to networked storage, access to the embedded web interface and an interface for AV control systems
vRCP
Features
Remotely control SMP products using any mobile device browser, without an RCP, or in conjunction with an RCP
Status indicator displays active alarm name, so the user can view the active alarm that relates to the recording on the mobile page. Alarms include:

Video Loss
HDCP Video
Audio Loss
Record Halt
Disk Space

Display record elapsed time to show how long the recording has run
Display record remaining time to show the remaining time before a recording will end, determined by either the unused storage space or the next scheduled recording start time
Display SMP recording status including stopped, setup (preparing for a new recording), recording, or paused
Display SMP device name and location on a mobile browser page to ensure the correct SMP unit when managing multiple SMP devices