Extron Wayfinding Interface
Extron Wayfinding Interface
Easily Find and Book a Meeting Space
Easy, Cost-Effective Implementation
No middleware, no licensing fees, no recurring fees

Mounts on walls, glass, or any flat surface

Integrates with popular calendar services
Maintain Security in all Room Booking Applications
All communications between Room Agent software and the touchpanels is encrypted

Selectively display only the meeting information you want visible at each location

Supports all TLS TouchLink Scheduling panels
Previous
Next
Extron Room Scheduling
Find and Book a Room the Easy Way
Meeting rooms are in high demand in today's business environment.

Finding and booking an available space can be time-consuming. We have simplified this experience with Extron Room Scheduling Panels and the Wayfinding Interface. Our elegantly-designed TouchLink® Room Scheduling panels connect directly to popular calendaring services. The TouchLink Wayfinding Interface, in conjunction with the Room Scheduling panels, provides a centralized real-time view of room availability and location.
Users can make reservations directly with a couple taps on the room scheduling panel, centrally from the Wayfinding Interface, or from their mobile device that connects to a supported calendaring service. Multiple mounting choices are available for the touchpanels, and the Wayfinding Interface allows discreet installation behind a flat panel display.
Connect Directly to Popular Calendar Services
The TouchLink Room Scheduling Panels seamlessly connect directly to popular calendar services including Microsoft® Exchange, Office 365™, Google Calendar™, 25Live®, EMS, NFS, and Ad Astra. Users can make reservations directly from these panels, a computer, or any smartphone or tablet that connects to any one of the supported mail servers.
TouchLink Scheduling Panels
Stylish, stand-alone TLS TouchLink Scheduling panels connect to a variety of popular calendar services and require no additional scheduling software or external processors. They feature vibrant touchscreens, Power over Ethernet, and bright red and green LEDs that make it easy to see if a room is occupied or available even from down the hall. Right out of the box, the TLS panels are ready to be customized with easy-to-use Room Agent Software.

Wayfinding Interface
Designed to connect directly with Extron Room Scheduling panels, the TLSI 201 Interactive Wayfinding Interface provides real-time meeting space availability, status, and location information using a centralized display. Now users can locate and book meeting spaces for the day or week on an interactive list or map with ease. No additional programming or external processors is required.
Room Agent Software
All TLS panels are configured with Extron Room Agent™ software. Simply connect the touchpanel to your computer, open the free Room Agent software, fill in the required fields that compose the user interface, and you're done. Customization options include custom colors, background themes, logo, and the ability to turn on or off specific text fields. Room Scheduling information can also be displayed centrally on an interactive list or map using the Extron Wayfinding Interface.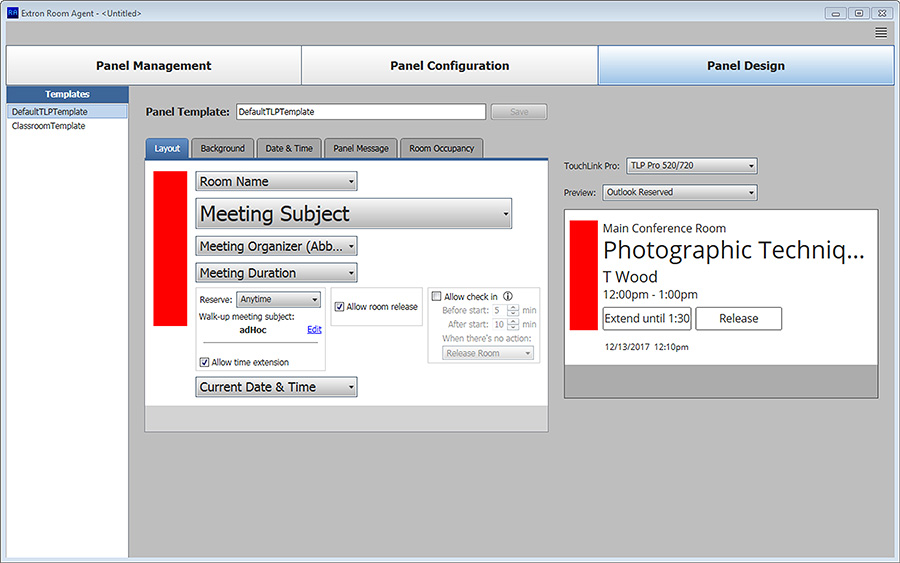 Room Scheduling Analytics – The Information You Need, Right Now
Room scheduling touchpanels provide the information you need to closely analyze room usage, activity patterns, and occupancy trends across the organization. A Scheduling Activity file with room usage and meeting data can be downloaded concurrently from multiple touchpanels. You can transform this readily-available information with data analytics tools to create powerful reports.
Manipulate data by clicking on any field
Room Occupancy Monitoring
Any TLS panel equipped with a digital input will work with Extron OCS 100 series occupancy sensors, which monitor room occupancy and, after a user-defined time, release the room back to available status. These sensors provide exceptional coverage using ultrasonic and passive infrared detection technologies. Integrated smart, adaptive software automatically and continuously monitors the environment and adjusts timer settings and sensitivity, providing a lifetime of dependable detection and maintenance-free operation.
Mounting Options
A broad variety of mounting options are available, including on-wall, in-wall, as well as secure mounting to almost any flat surface, including glass, granite, or mullion.
Supported Languages
Room Agent currently supports 27 languages, and Extron is continually working to add more. Check this list frequently for language updates.
Arabic
Catalan
Chinese Simplified
Chinese Traditional
Croatian
Czech
Danish
Dutch
English
Finnish
French
German
Hebrew
Italian
Japanese
Korean
Norwegian
Polish
Portuguese
Russian
Serbian
Slovenian
Spanish
Swedish
Thai
Turkish
Vietnamese