Insights: The Importance of Pro AV in Esports
Professional AV products power esports experiences in a wide range of venues. The unique performance needs of esports facilities require particular AV system design knowledge and expertise to deliver a superior experience for players, while keeping the audience immersed in the real-time action.
The following resources can serve as a helpful guide whether you are building a new esports program or taking your current program to the next level.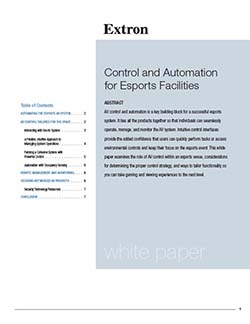 Control and Automation for Esports Facilities
AV control and automation is part of the core infrastructure within an esports venue. It enables communication across all the various devices in the ecosystem and adds levels of efficiency to workflows for operation, management, and maintenance, ensuring a superb experience. Carefully evaluating the available options and formulating the right control system strategy will help you achieve an effective gaming space.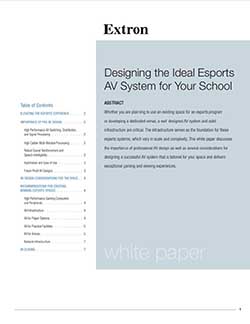 Designing the Ideal Esports AV System for Your School
The growth of esports and many types of supporting venues brings opportunities for educational institutions to attract new students and build a stronger community and brand. Whether you are planning to use an existing space for an esports program or establishing a dedicated venue, selecting the right AV system is one of the most important decisions you will make. Pro AV designs help you meet key requirements of the space, the equipment, the players, coaches, and audiences in the room and around the world.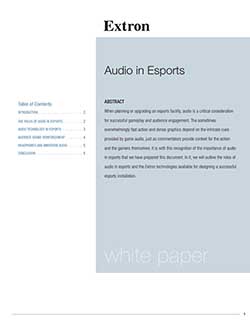 Audio in Esports
Audio is a key consideration when planning or upgrading an esports facility. It has many roles in team communication, gameplay, shoutcasting, streaming, audience engagement, and coaching. This necessitates familiarity with various audio technologies and concepts to help you create an impactful and practical esports facility.