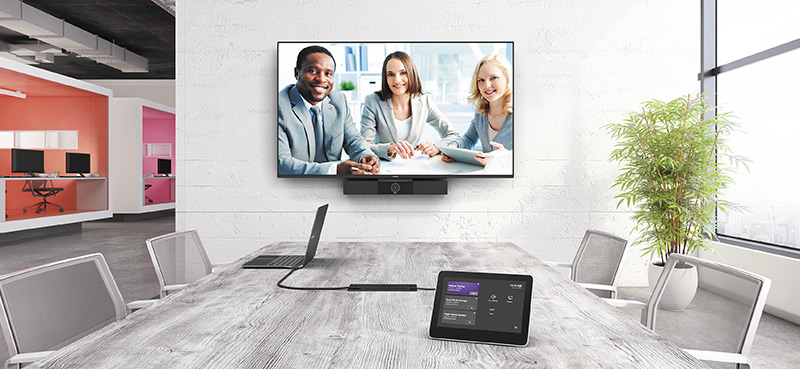 Extron Delivers an Enhanced Room Experience for Microsoft Teams Rooms
Extron Delivers an Enhanced Room Experience for Microsoft Teams Rooms
Extron and Microsoft have come together to provide Microsoft Teams Rooms solutions with our certified hardware. Now it's easier than ever to stay connected with flexibility of realtime collaboration from anywhere. The products in our Microsoft Teams Rooms Certified Design Solutions have been designed and meticulously tested for best in class performance and ease of use.
On this page, you will find complete Certified designs, Featured solutions, and detailed information on the individual products they include. These designs and solutions can be deployed in any size environment, and in any application from enterprise to education to remote work.


Certified for Microsoft Teams Rooms Design Solutions
Control Solutions
Delivering an Enhanced Room Experience
Extron has teamed up with partners to extend our Pro Series control capabilities to Microsoft Teams Rooms. With Extron control for Microsoft Teams Rooms, a single user interface is all you need to control every conferencing, audiovisual, and room function. Together, Extron and our partners deliver complete AV and conferencing control across the enterprise. Extron has simplified the conferencing experience and provides a new level of convenience with turn-key, centralized control of AV devices, shades, lighting, audio, and much more – all from the familiar Microsoft Teams Rooms interface.
Key Features
Scalable Microsoft Teams Rooms Solutions – Enable rooms of all sizes with capabilities to switch, distribute, extend, stream, enhance audio, and control AV signals
Room Automation – Integrate automatic system and display controls utilizing Extron Control Systems and sensors
Simplified Room Control – Provide all room and video conferencing controls including one touch meetings with a single interface
BYOD Options – Provides flexibility to use conferencing platform of choice while leveraging all room resources
Supports USB camera control, Extron audio DSP, and other unique capabilities
Extend the capabilities of Microsoft Teams Rooms systems to include automated control for lighting, shades, HVAC, and more
Maintains a consistent user experience across the enterprise while accommodating the needs of a wider variety of meeting room types and technologies