House of Worship AV Systems
Need Design Assistance?
Email us for a custom design consultation.
Houses of worship have readily taken to using cutting edge audio-visual technology in the central congregational space. Video projectors or LED videowalls driven by state-of-the-art processing equipment display religious news and upcoming event announcements between services and song lyrics, images, and videos during the service. These visuals are often supported by sound systems that include audio processors with advanced DSP capabilities and high-quality speakers. Audio can provide a focus on intelligibility and quality sound for the featured speaker or musical performances.
However, the message given at a modern spiritual campus is often intended to be shared well beyond the communal service area. Distribution over a twisted pair or fiber optic cable infrastructure provides an opportunity to extend the service to other rooms within the complex, such as overflow or crying rooms. Live streaming can broaden message outreach to anywhere around the globe. Digital signage can share news and information about upcoming events and activities to a fellowship hall, refreshments rooms, and other gathering spots.
No matter the specific need, Extron can play an important role in how speech, music, and media is presented and shared in a house of worship. We manufacture over 5,000 products, including many that contribute to effective, elegant solutions in worship spaces. Key product categories include:
AV Distribution and Streaming
Video Signal Processing
Audio
System Control and Scheduling
AV Distribution and Streaming
In a house of worship, the AV distribution system must manage signals from a variety of locations, which can include the equipment room, mixing area, pulpit, and room cameras. To tie these locations together, twisted pair, and streaming technologies are often employed. Distribution over twisted pair cabling, in tandem with centralized matrix switching, provides a flexible, expandable system architecture that is reliable and easy to integrate. Streaming technology can transport media over an Ethernet network to locations such as overflow and crying rooms, and be used for archiving worship services. These capabilities can be combined with other formats and solutions for standard signal types, such as HDMI distribution amplifiers, localized at key locations within the room.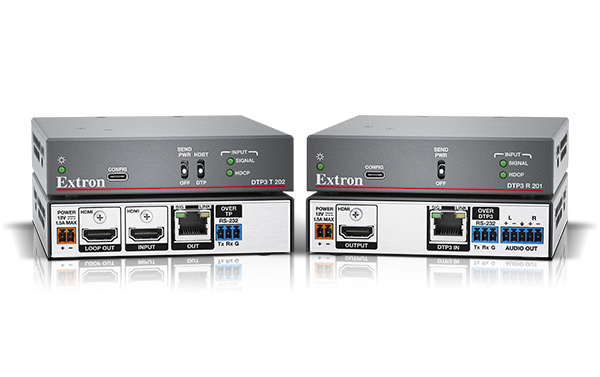 Twisted Pair
Extron DTP Systems and XTP Systems are ideal for such environments, distributing video at resolutions up to 4K, along with audio, control, and power across common twisted pair cabling at distances up to 330 feet.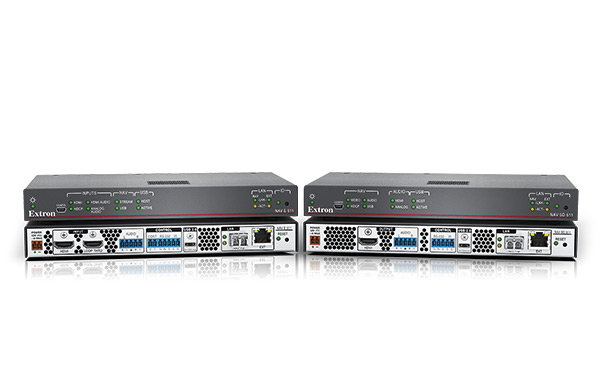 NAV Pro AVoIP
NAV® is the only no-compromise Pro AV over IP solution for distribution and switching of ultra-low latency, high quality video and audio signals over an Ethernet network at low bitrates. The intuitive graphical NAV web interface makes easy work of configuration, monitoring, and troubleshooting the system.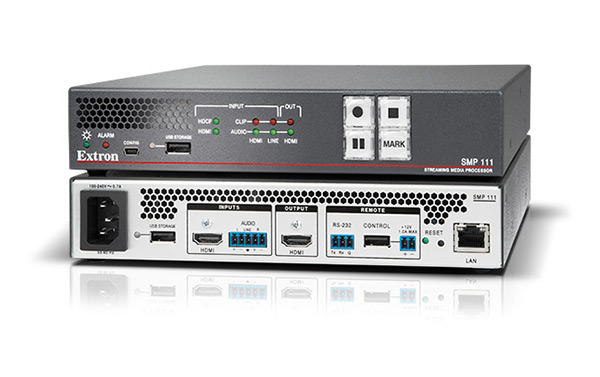 SMP Streaming and Archiving
Extron SMP streaming media encoders and decoders meet the needs of a diverse array of applications including signal extension and archiving. Use SMP Streaming Media Processors to streamline service capture and alleviate the complexity and reliability burdens associated with traditional PC or software-based recording tools.
Video Signal Processing
In addition to general signal distribution and switching, a house of worship AV system may require the use of further video signal processing. This can include format conversion or scaling to ensure signal compatibility for optimal source presentation on any size, resolution, or type of display device.
Extron offers a comprehensive line of signal processing products that includes signal converters, single-source scalers, and full-featured multi-source scalers with logo storage and windowing capabilities. All were designed by Extron from the ground up to ensure the highest quality image presentation throughout the entire signal chain. We have continually refined our technology to keep pace with evolving video formats - from standard definition to high definition signals, and now, 4K. Built on our patented signal processing platforms, Vector™ 4K is the latest generation of Extron scaling engines, specifically engineered for critical-quality 4K video signal processing.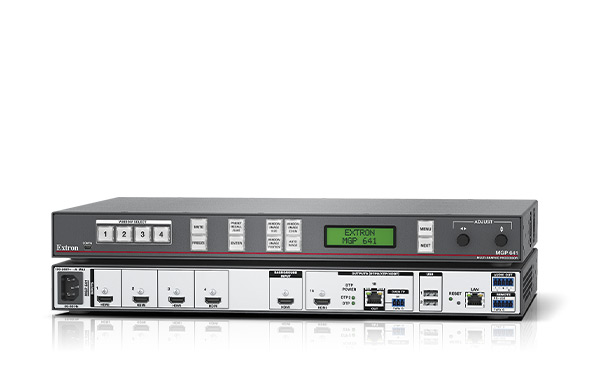 Multi-window Processors
Presenting several sources simultaneously on a one or more screens is a creative, flexible way to communicating a message. Cameras, PCs, and media players can be presented as one overall image. The window arrangement and background can be stored as a preset for later recall using a hard cut or animated transition.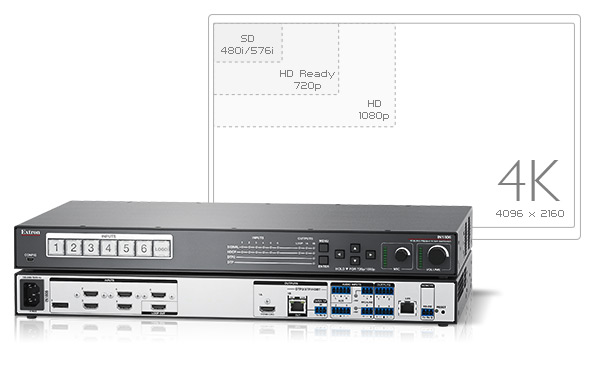 Signal Integrity
Any signal processing performed must maintain the integrity of the original signal. Converting from one format to another must not add artifacts to the signal. Also, scaled video must retain the detail of the original content, whether upscaling sources to higher resolutions or downscaling 4K content for use by HD devices.
Audio
Intelligibility is imperative for environments relying on the spoken word. Effective house of worship audio design requires careful management of microphones, processing, amplification, and distribution. The sound reinforcement system is responsible for creating a level, predictable sound field across the room, improving speech intelligibility, program audio, and other presented material. The system can include one or more audio amplifiers, speakers installed throughout the room, as well as Digital Signal Processing - DSP for the routing and optimization of audio signals. They ensure clear speech and pristine audio playback.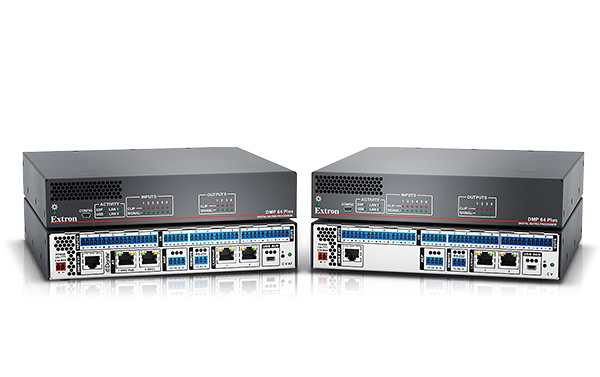 Audio DSP
Extron ProDSP® processors are available in popular sizes, including 4x4, 6x4, and 12x8, and are expandable up to 60x24. They provide automixing and can feature various combinations of AEC, POTS interfacing, VoIP, local mic/line inputs, USB interfaces for local recording of up to eight audio channels, and networked audio using Dante®.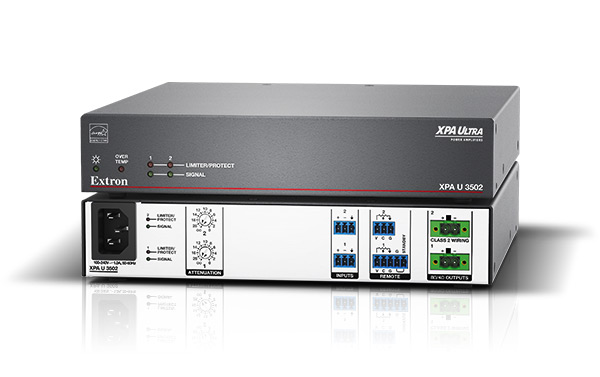 Amplifiers
Extron offers high performance, compact Class D amplifiers with high channel density and industry leading efficiency ratings. They are available in multiple sizes with 8 Ohm, 70 v, and 100 v connections.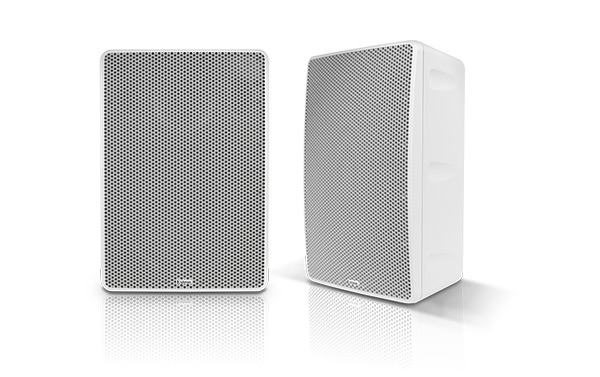 Speakers
Extron speakers are available in several form factors, including pendant, in-ceiling, surface mount, and soundbar configurations. You decide on the best solution for each environment. Many models are available in black or white and are paintable to fit in with the surroundings.
System Control and Scheduling
System control is an important element for any environment. It must be dependable, intuitive, and integrate cleanly into the room's design. AV system control should be available in several key locations such as the pulpit and mixing area/control room.
Extron offers a comprehensive selection of control and interface options to meet any need. They range from small, physical button panels to customizable touchpanels in a wide variety of sizes that provide for full building control. Capabilities include audio adjustment levels, video preview and switching, lighting, and system/device power.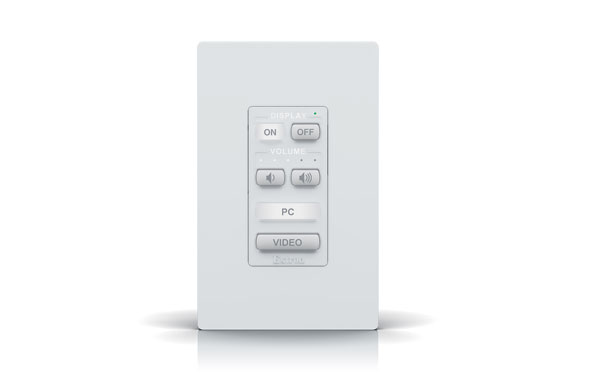 Simple Wall or Lectern Control
Extron button panels feature elegant designs that provide the ideal combination of form and function. Offering access to basic system functionality, they feature customizable buttons and are easy to use and configure.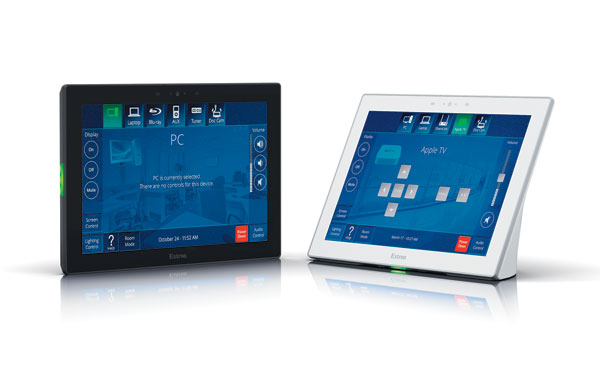 Tabletop and Wall Mountable Touchpanels
Extron TouchLink® Pro touchpanels are available in a variety of form factors and finish options. Sizes range from 3.5" touchpanels for basic control to 17" touchpanels with full video preview capabilities. Whether resting on a tabletop, flush-mounted to a wall, or hidden out of sight until they are needed, TouchLink Pro touchpanels integrate into any room's décor with ease.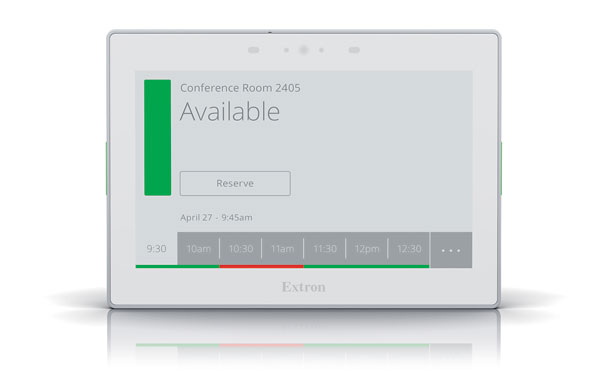 Room Scheduling
Extron offers wall or glass-mountable touchpanels that simplify finding and booking a room. Easily view a room's schedule or make reservations directly on the touchpanel or from any device that connects to a calendar service, such as Microsoft® Exchange®, Office 365®, or Google® Calendar™. The TouchLink Wayfinding Interface, in conjunction with the touchpanels, provides a centralized real-time view of room availability and location.
Professional AV Services
Extron is committed to ensuring that every AV system enabled by our technologies functions properly and fully meets design specifications and customer expectations. Our expert team of system design engineers, all of whom have decades of experience, are only a phone call or an email away. We're not satisfied until everyone with a vested interest in the success of the system is satisfied. To that end, we provide the most comprehensive system design assistance, post-installation commissioning services, and network technologies support in the industry.
System Design Services
Design assistance is a valuable, ongoing service that helps ensure your AV systems are optimized to your specific needs. It can start during the initial phase of a project, where a system specialist works with you to choose the specific Extron products for your system, but it doesn't stop there. Your design specialist works closely with you, long term, whenever you need AV system design help. Having a professional system designer as part of your AV resource team can streamline projects and provide peace of mind for today and tomorrow.
System Commissioning
Our System Commissioning service provides comprehensive, post-installation analysis, testing, and verification to ensure your AV system is working exactly as it should be. Our system design engineers take a deep dive into system settings, optimizing dozens of audio, video, and control settings. They also run a point-to point physical analysis of your AV with every button pressed, every connection checked, and every signal path verified.
Network Support Group
Our Network Technologies Support Group brings together an unparalleled team of senior AV engineers that specialize in Enterprise IT Network Management. With certifications such as CCIE and CCNP from Cisco and other infrastructure vendors, our team is here to assist you from pre-sales conceptual design to post-sale commissioning, ensuring that your AV over IP deployment meets your every expectation.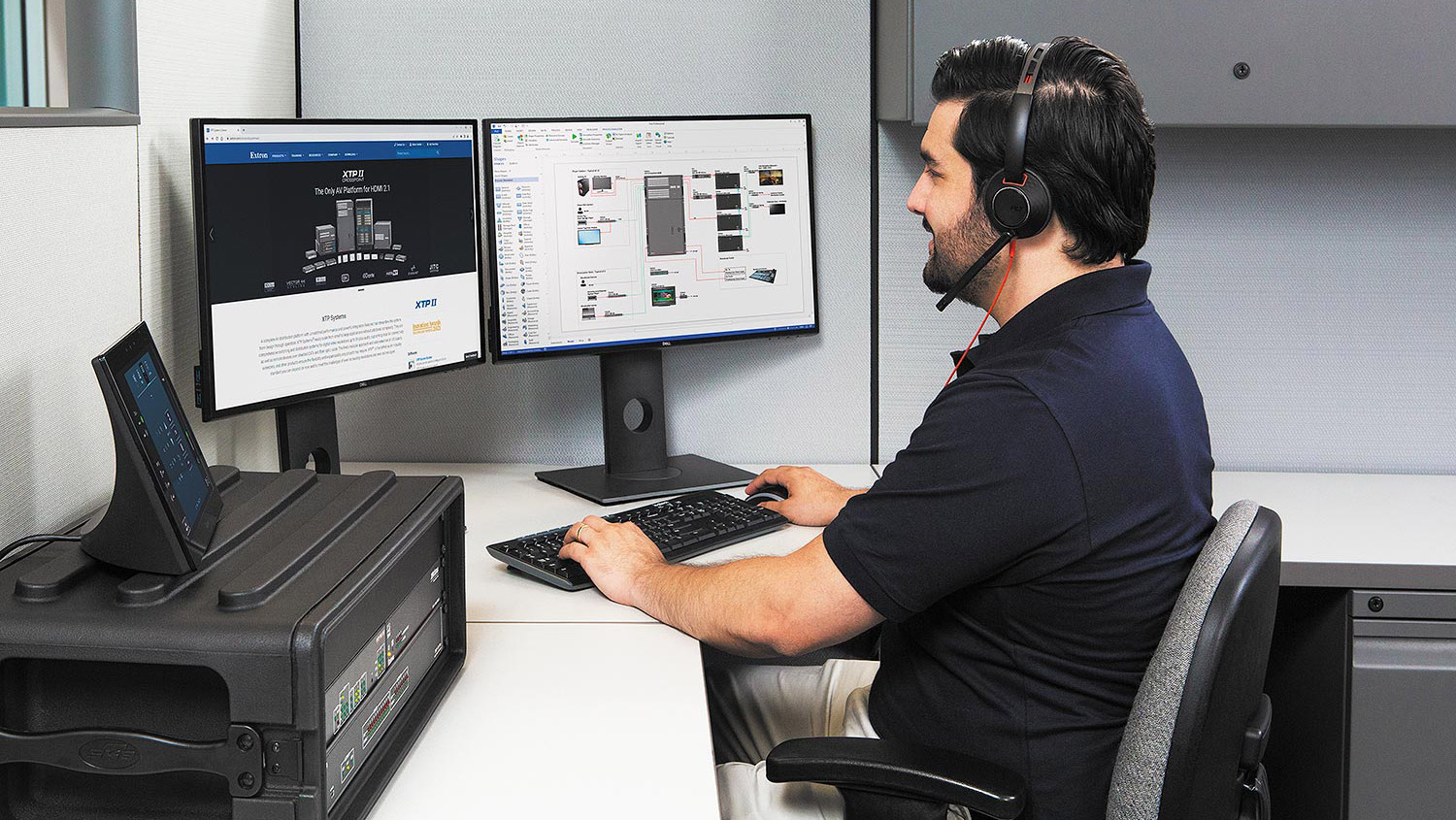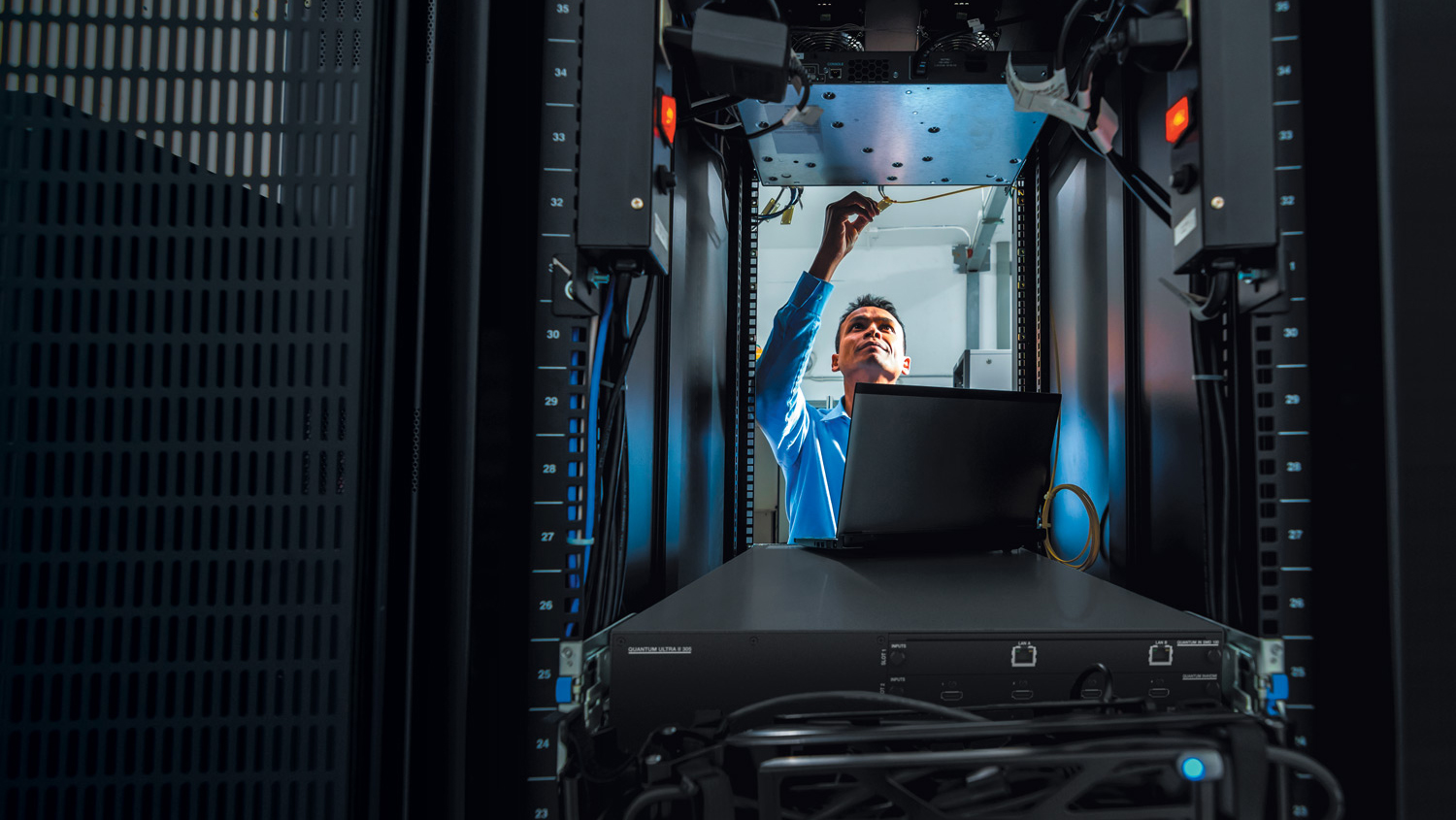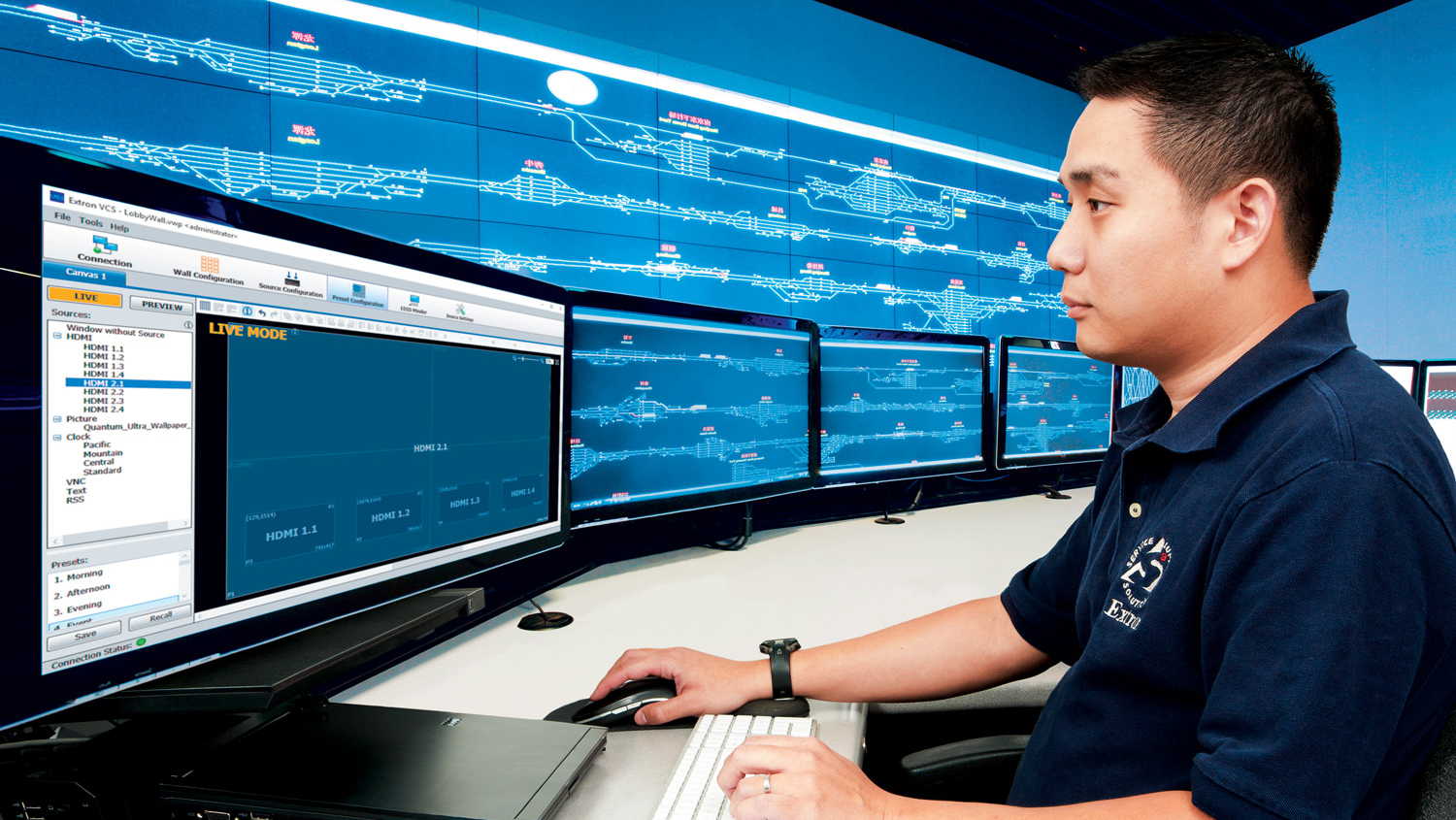 Global Support
With offices around the globe, Extron is able to provide dedicated, full-service support to customers worldwide. Extron's global presence means that we are here for you, wherever you are.
View Extron Worldwide Office Locations