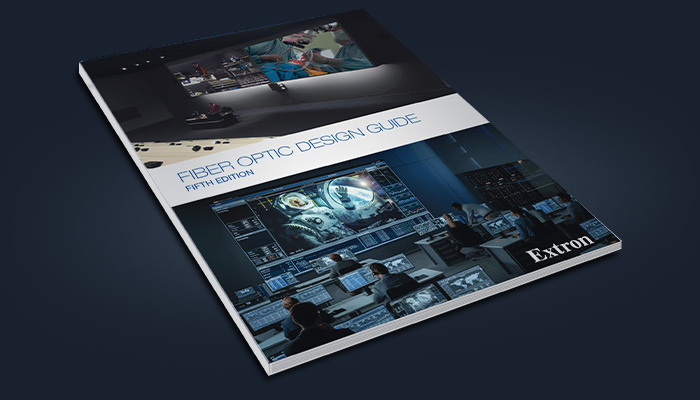 A Reference for AV System Designer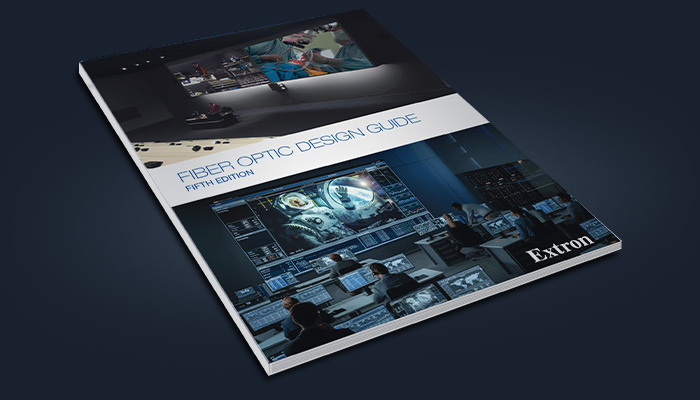 A Reference for AV System Designers
Addresses the advantages of using a fiber-based infrastructure for AV

Offers a technical yet practical approach to fiber optic AV system design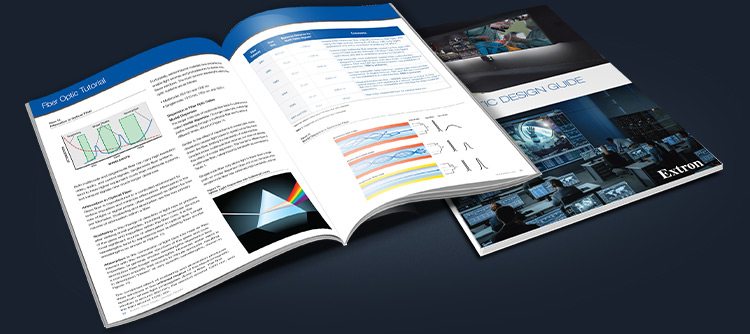 A Comprehensive Resource for Fiber Optics in Pro AV
Provides tutorials on fiber optic technologies and fiber cabling

Sample AV system designs illustrating common design challenges and solutions

Includes a listing of Extron products for fiber optic AV integration
Previous
Next
Fiber Optic Design Guide - Fifth Edition
For AV Professionals
Fiber optic cables have emerged as the new standard for AV designers and integrators concerned with future-proofing their systems and can be used for a complete AV cabling infrastructure or to augment a twisted pair or coaxial cabling installation. As video technologies and standards continue to evolve, AV system designers and integrators are continuously challenged with providing a cable infrastructure to support high resolution video, audio, and control signals commonly used today and anticipating the needs of tomorrow. Today's digital video standards require multi-gigabit data rates to deliver high resolution video from the source to the display. For the moderate to long distances found in modern AV systems, fiber optic cables offer several advantages over coaxial and twisted pair cables. Leading AV designers and integrators have also learned that fiber optic cabling ensures their AV systems support the high resolution digital video signals of today and provide a path to higher resolutions in the future.
The ability to design and install systems that function on fiber optic networks is becoming a competitive advantage for successful AV integrators. As a leading manufacturer of products engineered for the commercial AV market, Extron has developed an extensive line of fiber optic extenders, distribution amplifiers, switchers, and matrix switchers to help Extron customers benefit from the advantages of fiber optic technology. Extron manufactures fiber optic products to support modern digital standards, including DisplayPort, HDMI, DVI, and 3G-SDI, as well as legacy analog video formats, such as RGB, HD component and standard definition video.
The use of fiber optics in the AV industry offers the important advantage of sending multiple AV signals over extreme distances with zero signal degradation and complete immunity from outside interference. Signals sent through fiber are also inherently secure, making fiber-based transmission the preferred choice in government, military, and medical applications. These advantages, together with the trend to include excess "dark" fiber in the design of modern facilities, make fiber optic products ideal for AV use in government buildings, military installations, airports, stadiums, and university or corporate campuses.
The Fiber Optic Design Guide helps the AV professional develop the required expertise to employ fiber optic technology in AV systems. The Guide provides tutorials on fiber optic technology and fiber cabling used in commercial AV systems. AV professionals are provided with a basic understanding of the technology, combined with a practical "how-to" approach for designing fiber optic AV systems. The Guide also includes sample AV system designs that illustrate common design challenges and solutions, including signal flow diagrams and the necessary equipment. A condensed catalog of Extron fiber optic products is also included. Also featured in the Guide is a reference section that includes a comprehensive glossary, a list of applicable standards, and Frequently Asked Questions.