S3 Education Partnership Program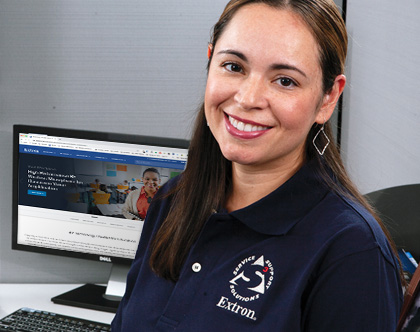 S3 Education Support Team
Extron's commitment to the education market extends beyond our industry leading technologies and products. We also strive to provide comprehensive support, training, and other benefits which has led to a new partnership program created exclusively for our education customers. Key program benefits include:
Extended Warranty
Eligible registered systems can receive an additional two years of extended warranty coverage, beyond the original three years, on all Extron powered products.
Authorized Reseller Recommendations
Access to Extron personnel who can recommend authorized resellers and integration partners who maintain the appropriate certifications to support projects in your area.
Extron Insider Website Access
Access to white papers, certification programs, software downloads, product configuration tools, product and training videos, online repair status, and more.
Product Demonstrations & Evaluation Equipment
Access to Extron product demonstrations and evaluation equipment for proof-of-concept testing.
Training & Certification
Extron Institute's online and instructor-led training provide your team with an increased familiarity of AV technologies, in-depth knowledge of Extron products and applications, and access to Extron product certifications.